According to a report funded by the Rick Hansen Institute and published in 2010, there are 85,556 people living with spinal cord injury in Canada. On average, 4,259 new cases of spinal cord injury are recorded each year. About half of these cases are due to motor vehicle accidents, with cancer and ALS as other leading causes. The healthcare industry spends roughly $3.6 billion a year for the care of traumatic spinal cord injury; $1.8 billion goes to direct medical cost. Spinal cord injuries are a major health concern not only in Canada but all across the globe. For this reason, it will be a big advantage if you have your first aid training when incident like this comes your way. If you are in Kelowna and would like to find for first aid and CPR courses, there a few websites that you can find in the internet.
The immediate care administered for patients with spinal injuries is essential in the outcome of the patient. Spinal cord injury refers to any injury to the spinal cord due to trauma such as motor vehicle accident, violence, or a fall. The American National workplace approved lists 9 situations where spinal cord injury is most likely. These include:
Ÿ  A fall from height greater than the victim's height
Ÿ  A diving mishap
Ÿ  A victim found unconscious
Ÿ  Any injury involving severe blunt force
Ÿ  Any injury that penetrates the head or trunk
Ÿ  Motor vehicle crash involving a driver or passengers not wearing safety belts
Ÿ  Victim ejected from a vehicle
Ÿ  Injury in which a victim's helmet is broken or cracked
Ÿ  Anytime a victim is struck by lightning
Spinal cord injuries can affect any section of the neck or the spinal cord. Regardless of the location of the injury, emergency care remains the same. When providing first aid for patients with possible spinal injuries and all other victims of accidents where spinal injury is suspected the immediate goals are:
Ensure proper airway, breathing and circulation.
Provide manual stabilization of the head and neck.
Keep the victim's body well aligned.
If available, apply rigid or extrication collar and secure patient in a spine board.
Using your hands, gently support the head in-line with the body or in the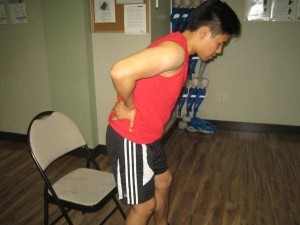 position found. If the person is lying flat on the ground, establish a base by placing your elbows to the ground. If the victim's head is severely angled or complains of pressure, pain or muscle spasm, DO NOT attempt to straighten up or align the victim's head and lower body. If resistance is felt while attempting to move the head, stop moving the victim. You can choose from different levels of CPR courses like CPR Level A or CPR Level C and this will surely prepare you if instances will happen.
While waiting for the ambulance and emergency medical services personnel to arrive, make sure to minimize movement of the head, neck and back. Check for other possible life-threatening conditions. Continuously monitor for breathing and consciousness. If there is bleeding, provide care for bleeding and monitor for possible signs of shock. Keep the victim warm.
Basic first aid courses teach participants how to care for victims of spinal cord injuries. These training programs usually last for a day and covers essential life-saving skills that everyone needs to know. To learn more about first aid training, you can contact your local workplace approved chapter for more details.